Open House
Friday, March 11  4:00-6:00pm
Saturday, March 12  10:00-2:00pm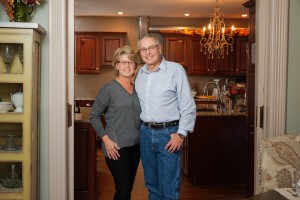 It has been a long hard first year!  Fred and I arrived on a cold wintery day with our first truckload of furniture and belongings on February 28, 2015. My family was here to greet us and help unload. Five days later on March 5 we arrived with our second truck during a snowstorm.  After 8" of snow had fallen we had to dig out so the movers could unload the truck.  That was just the beginning!
Now came the hardest part.  Refurbishing the house and transforming it to the new look of the Winfield West Bed and Breakfast.  We did not know where to begin.  Color schemes, furniture, linens and most importantly the kitchen?  Updating the kitchen was first and foremost on the list. For me, the kitchen has always been the heart and soul of a home.
It all took time, patience and help from our sister-in-law and niece to help guide and keep us going.  It has been an incredibly steep learning curve for us, even wondering at times if we had made a mistake. However, Fred and I are quite proud of what we have been able to accomplish the past year. There are still countless hours of work to be done and many changes yet to be made, but we are off to a great start!
Come celebrate with us at the Ribbon Cutting Ceremony on March 11 at 3:00 pm  and Open House at the Winfield West Bed and Breakfast on March 11 & 12.
Register to win a gift certificate at our Open House for one free night stay double occupancy at the Winfield West Bed & Breakfast.